Super simple, super delicious, and super easy; that's how you describe a hearty marinara sauce. This easy marinara sauce is considered the building block of the Italian kitchen. Do you want a delicious low-carb, low-fat, and low sodium tomato sauce? This homemade marinara sauce ticks all the boxes.
What is Hearty Marinara Sauce?
Marinara sauce is a tomato puree sauce made with Italian Seasoning and infused with fresh or dried herbs. The sauce is thick and chunky, goes well with pasta or spaghetti or fish. Making the marinara sauce is so easy; anyone can make it. The best part of making marinara is you do not even have to spend your time in front of the stove. It requires 10 minutes' hand on at best. Rest is done by simmering the sauce into a thicker texture.
You can neglect Marinara Sauce calories as it contains minimal calories. One serving of marinara has roughly 70 calories only. So if you are thinking about your calorie intake, don't be worried. This sauce is low fat; the only fat you get is from olive oil—low carb, of course, low sodium. Again, if you are skeptical about your sodium intake, try to go with fresh tomatoes rather than canned. The same goes for added sugar. If you don't want to consume any added sugar, go for organic fresh tomatoes.
This Italian marinara sauce recipe is the best out there. This sauce is an authentic Italian-style recipe that ensures you the best possible flavors from your sauce. You can change and play with the ingredients and make your version of this hearty marinara sauce, but sometimes it is wise to stick with the classics.
Marinara Sauce Ingredients
Well, you only need a few ingredients to make a tasty marinara sauce.
Olive Oil: It's a no-brainer. How can you cook something Italian and not add olive oil! Go for extra virgin olive oil. They are simply delicious. In case you don't have olive oil, try butter. However, marinara sauce is made with olive oil.
Onion: White or yellow, it does not matter. Finely dice the onion. Make sure you chop the onion finely; the larger onion will be chunky in the sauce, which I don't prefer. It depends on you; if you like your onion a little bit chunky, you can go with that.
Garlic: Finely chop or crush. Either way, it will melt and flavor the sauce.
Crushed Red Pepper Flakes: Brings the heat into the sauce. It is up to you how many pepper flakes you want to use. I usually go with one teaspoon; that does the trick for me. Make sure you saute the flakes in olive oil.
Whole Tomatoes: The star of the show. The quality of the sauce largely depends on the quality of tomatoes. Pick ripe tomatoes with fewer seeds. The tomatoes should have more pulp. Make sure you use tomatoes with thin skin. You can go with any good quality canned tomato.
Basil: I love the flavor of basil in marinara sauce. If you have a sprig of fresh basil, it would be best. You can take them away before serving the sauce, or you can cut the leaves and leave them in the sauce. Any way you do it, it's delicious.
Dried Oregano: A small pinch of oregano does a trick only your taste buds understand.
Salt & Pepper: Use Sea salt and black pepper for seasoning.
You can experiment with marinara sauce in plenty of ways and make your version. Here are the possible variations for the marinara sauce:
Spicier: If you like your sauce spicy, you can add more pepper flakes to your sauce.
More Herbs: Do not limit yourself to dried oregano and basil. You can use thyme, sage, or even mint if you like.
Buttery: You can use extra butter if you like butter.
Creamy: Heavy cream brings richness into the marinara. You can go with that.
Cheesy: In case you are a cheese lover, you can add parmesan or Cheddar cheese. Make sure you look after the seasoning if you add cheese.
Texture: Make it chunky or smooth, up to you.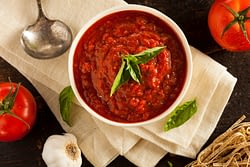 Hearty Marinara Sauce
This hearty marinara sauce is a sauce that cannot go wrong. You will love it no matter how you prepare it or serve it. Give it a go and enjoy it with your family and loved ones.
Ingredients
3½

Tbsp

Olive Oil

Or Clarified Butter

⅔

Cup

White Onion

Finely Chopped

7

Cloves

Garlic

Pressed Or Chopped

10/12

Whole Ripe

Tomatoes

Or 2 Can ( 28 Ounce) Juicy Tomatoes Pulp

2½

Tsp

Dried Oregano

1

Tsp

Crushed Black Pepper

6

Large

Fresh Basil

1

Tsp

Red Pepper Flakes
Instructions
Recipe Instruction On How To Make a Tasty and Hearty Marinara Sauce
First, put some olive oil into the pan and saute garlic and onion until the onion softens. Add red pepper flakes to bring the flavor. The amount of pepper will depend on your palate. 

Now add the tomatoes to the pan. Season it with salt and pepper. Add dried oregano and a sprig of basil.

Please give it a good stir so that everything gets mixed well. Cover the pan with a lid. Simmer the sauce for about 20-30 minutes. The timing is important. Do not rush into anything. Let the sauce sit on the heat and simmer down. 

Discard the sprig of basil. Taste the sauce. If needed, put in some extra seasoning. And just like that, a hearty and delicious marinara sauce is ready to serve. 
Notes
Good quality tomatoes will give you the best marinara sauce. Do not compromise the quality of tomatoes. Pick fresh ripe tomatoes or good canned tomatoes.
Gently simmer the sauce, do not rush it.
If you want to store the sauce, let them cool to room temperature and pour them into a food container. You can freeze and preserve for up to three months.