Meatballs in the Instant Pot are the easiest way to make meatballs EVER! It's a busy day, and you are looking for something quick yet tasty, in comes the instant pot frozen meatballs and marinara. This dish is so easy to make, it's a no brainer. This meatball marinara recipe will take a maximum of 15 minutes. Just put your ingredients in the instant pot and whack it in the heat, and you got yourself a tasty, mouthwatering, easy homemade meatball dish.
Hello Fresh Meatballs:
No color, no flavor. That's a famous saying, and it's true. That means you might want to brown your meat before you put that into the instant pot. But it's not a stretch; you can throw your frozen meatballs into the pan. If you brown your meatballs, they taste better. But if you don't, they are more tender. So it's on you and your preference.
There are several choices for your meat. The classic one is a half and half pork and beef. It can be all beef. A leaner version of this meatball marinara is with turkey meatballs. If you want to take it to the next level, you can stuff your meatballs with cheese like mozzarella. Press the meatballs with your thumb to make a hole, put mozzarella inside that hole, and close it. Trust me; it is worthy of your effort.
Dipping Sauce For Meatballs:
Dipping sauce for meatballs is as vital as the meat. There are several choices for you in terms of which sauce to use. You can go with plain tomato sauce or even barbeque sauce. My personal favorite is marinara sauce. It's a classic and goes well with beef meatballs. It is essential to use a healthy amount of sauce because it will prevent your meatball from going dry. The sauce infused with the flavor from the meat, and it will be delicious.
Instant pot frozen meatballs and marinara is better than the regular pan-fried meatballs or baked meatballs. Pan-fried meatballs can burn, and oven-baked is often dry. With this recipe, your meatballs will not burn or dry out. It will cling together and cook perfectly. Just go with the method and let the ingredients do their magic
To begin with, you need meatballs and marinara. You can go with the frozen meatballs or make your own. Little meatballs will cook early and will be firm. Larger ones will be tender and juicier. You can make the meatballs beforehand and store them in your freezer.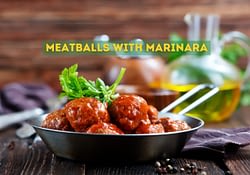 15 Minute Instant Pot Frozen Meatballs and Marinara Recipe
It's a busy day, and you are looking for something quick yet tasty, incomes the instant pot frozen meatballs and marinara. This dish is so easy to make, it's a no brainer.
Ingredients
Meatball Ingredients
1½

Lbs

Ground Meat

Can Be Beef, Pork, Lamb, Chicken, Turkey, etc.

1

Onion

Grated or Finely Minced

2

Large Garlic Cloves

Grated or Finely Minced

1½

Tsp

sea salt

Or To Taste

½

Tsp

Fresh Ground Black Pepper

2

Tsp

Dried Italian Herb Mix/ Oregano

½

Tsp

Red Pepper Flakes

1

Egg

Beaten

½

Cup

Finely Grated Pecorino Romano Cheese

¾

Cup

Italian Style Bread Crumbs
Tomato Sauce
2

Tbsp

Olive Oil

1

Large Onion

Diced

1

Stalk

Celery

Diced

1

Large

Carrot

Peeled and Diced

3

Cloves

Garlic

Crushed

1

Tsp

Dried Italian Seasoning

1/2

Tsp

Diamond Crystal Kosher Salt

1/4

Tsp

Crushed Red Pepper Flakes

½

cup

Red Wine

Or Broth or Water

1

cup

Chicken Broth

Or Water

1

(28-ounce) can

Crushed Tomatoes

1

Tsp

Fresh Ground Black Pepper
Instructions
In a large bowl, take your meat. Sprinkle the breadcrumbs, salt, pepper, herbs, cheese, red pepper flakes, onion, and garlic. Give them an excellent mix. When mixed properly, crack an egg and mix it properly. Wet your hand with some water and roll the mixture into small meatballs. For reference, you can make them the size of a golf ball, about 2 inches in diameter.

Put some olive oil in the instant pot / any other cooking pot and set it into saute mode until the oil gets hot. Add onion and garlic, carrot, and celery into the pot and stir. Then put your Italian herb mix into the pan and saute. Add red pepper flakes and salt and cook for about 5 minutes. You might want to stir occasionally.

Pour the wine into the instant pot and stir it. Scrap the bottom of the pan in case any onion gets stuck. Simmer the wine for a couple of minutes until the alcohol evaporates. Pour chicken broth and stir. (Or you can use cooking spray and add the marinara sauce.)

Now is the time for you to add the marinara sauce. After that, add your meatballs. Try to avoid stacking one on top of another. One layer of meatball will cook evenly. 

Lock the lid, and your job finished. The cooker will do the rest. Pressure cook it for 15 minutes at high pressure (or 7 minutes manual & slow release for 5 minutes) and wait for your instant pot frozen meatballs and marinara.

You can serve meatballs with rice. Make sure you cook rice perfectly. Rice will soak up all the goodness from the sauce. You can serve meatballs in a sandwich. The safest is, of course, to serve with spaghetti or pasta. 
Notes
If you like to brown your meat, sear it on a pan and then put them on the sauce. It's not essential.
Typically use ground beef. For a variation, you can go with half and half beef and sausage. If you want a leaner and healthier version of meatballs, turkey is the key!
You can experiment with the herbs. Dried oregano goes well with beef. You can use thyme or even rosemary too. It depends on your palate. 
Using eggs keep the meatball together and prevents them from falling apart.
Cheese brings extra flavors to your meatballs. Use your favorite cheese.
If you use frozen meat, there is no need to defrost it. Just put the meat into the instant pot, and it will cook well. 
You can store the leftover meatballs and eat them later. Try not to store them for more than 2 or 3 days. Take them out of the freezer and put them into the oven.