They say old is gold and this traditional El Paso Taco Seasoning Recipe proves it. Simple, easy, and utterly engaging, that's how I describe an Old El Paso Taco Seasoning Recipe. It is cheaper and healthier than the ones you buy.
This homemade taco seasoning can be used in a plethora of dishes like Shrimp Tacos (you can try our mouth-watering shrimp tacos recipe) . You can use a bit of this seasoning in your taco salad. It goes well with shrimp tacos. Of course, Taco soup tastes way better with the touch of a little bit of this fantastic taco seasoning. And the ultimate beef tacos! Sprinkle some of this seasoning and experience the magic. And here is the thing, you can apply this seasoning in any other dishes of your choice. But make sure you understand the balance of it.
I do not entertain the idea of buying taco seasoning from the store. First of all, making your taco seasoning is super easy; literally, you will laugh out loud. Secondly, it is healthier. Store-bought taco seasoning has so many unwanted ingredients that you don't want. Besides, it contains an added chemical, added color, dairy, and preservatives. If you are worried about gluten, you should make your taco seasoning at home.
Taco Seasoning Ingredients:
The ingredients that you need to make this seasoning is already at your home may be! It's amazing how this tiny amount of spices does the magic. Please note that I am writing this recipe for a small portion. You can easily double, triple, or even quadruple the amount and make a large batch and keep it for future use. Please don't tell me these are not the most used spices in your kitchen when you see the list. I love Mexican food, and you will find these spices in my kitchen any day.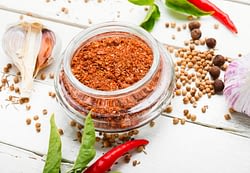 El Paso Taco Seasoning Recipe
Elevate the taste of your tacos by applying this fantastic homemade taco seasoning. This El Paso taco seasoning recipe is easy to follow, but the product is beautiful. I am sure you will be in love with the flavor of it the moment you cook something with it. Give it a try and save up some money. I know deep down you will be thanking me for these savings. Cheers. 
Ingredients
1

Tbsp

Chilli Powder

1

Tsp

Ground Cumin

1

Tsp

Garlic Powder

½

Tsp

Paprika

Or Smoked Paprika

½

Tsp

Oregano

½

Tsp

Salt

¼

Tsp

Black Pepper

Red Pepper Flakes Or, Cayenne Pepper

Depends On Your Palate
Instructions
El Paso Taco Seasoning Recipe
It is a lengthy process. To make an El Paso taco seasoning, you have to go through a massive list of tasks. Please excuse my sarcasm. This basic taco seasoning recipe is one of the oldest out there, and of course, one of the best. 

To make this healthy taco seasoning, take a bowl (size will depend on how much you are making). Gather all the spices in the bowl and give it a mix.You can use the seasoning right away or store it in a jar and use it later. That's about it. 
Notes
Like I said before, this homemade taco seasoning is better than any store-bought seasoning. It is healthier and cheaper. 
If you are putting this seasoning in ground beef, make sure you add two tablespoons of this El Paso seasoning per pound of meat. 
The heat of the seasoning largely depends on your palate. If you like it to be very hot, add more pepper or chili powder.