I can not believe in the movie 'Forrest Gump' Bubba mentioned a hundred shrimp dish's name but did not mention Shrimp tacos with slaw! I expected better from him. Shrimp tacos are an absolute game changer and my favourite. And let's face it, kids love tacos and shrimps. Instead of ordering shrimp tacos from restaurants, why don't you make your own tasty grilled shrimp tacos? The best part of this grilled shrimp taco recipe is, it is super simple and super quick. Maximum 10 minutes hands-on, and you get yourself a taco that will make you say TACOS, HELL YEAH! How do I know? Because each time I eat these shrimp tacos, I say that!
Be it game night or a busy night, family gathering, or binging tv series, you name it. And of course, it is tasty and delicious. The taste of shrimp is complemented with the cajun seasoning, and it sits on a pool of tasty creamy shrimp taco slaw. Oh my my!
You have to assemble four main ingredients to serve this dish.
Shrimp Taco Seasoning:
Combine taco seasoning and enough garlic powder in a way that no one dominates the other. Mexican food needs a Mexican seasoning. I insist you make your cajun seasoning rather than buying it. Don't you worry, I will tell you how to make it. Make sure you don't add salt to the seasoning. Shrimp contains a considerable amount of sodium, so you don't want to add more.
Shrimp Taco Sauce:
You need to find the right sauces for tacos. I prefer garlic cilantro lime sauce. Tangy, citrusy, and delicious. If you are looking for an option, a cilantro vinaigrette is a good option.
Shrimps:
Star of the show! Some call it 'the fruit of the sea'. And I couldn't agree more! What a tasty treat shrimp is. Cooking shrimp can be tricky, though! They are delicate, so you don't want to overcook them. It is essential to cook shrimp perfectly; otherwise, you might not like the taste. Try to pick best tasting shrimp. Fresh shrimps are tastier, but in that case, you have to skin them. If you don't like to do that, buy frozen shrimps. Make sure shrimps are completely thawed, or shrimps won't be cooked perfectly. To thaw the shrimp, put them in the refrigerator overnight or just put the shrimps in cool water for 20-30 minutes.
Slaw:
Well, most taco slaws are made with mayo. We all know mayo is not that healthy. So, if you are thinking about that, switch to yoghurt. But slaw with mayo is the classic version, and I guess it would not hurt to eat some mayo once in a while. For the slaw, you will need cabbage. I like the taste of red cabbage in the slaw. It goes well with mayo or yoghurt. It gives a very refreshing taste to it and makes your slaw look gorgeous.
For this shrimp taco with slaw, you will need Cajun Seasoning. It is easy and simple. Here is what you need to make your cajun seasoning.
2 Tsp Garlic Powder
2 Tsp Dried Italian Herb Seasoning
3 Tsp Paprika or Smoked Paprika
3/4 Tsp Cayenne Pepper
1 Tsp Onion Powder
1 Tsp Freshly Cracked Black Pepper
1/4 Teaspoon crushed red pepper flakes
Mix all these ingredients, and you got yourself a cajun seasoning that you can use in a plethora of dishes.
What To Put As Toppings:
When it comes to the toppings in your taco, it is really easy to get carried away and put everything that you find in it. But do not overcommit. Here are the ingredients you can put on a shrimp taco:
Crumbled Queso Fresco
Cilantro
Avocado
Jalapenos
Guacamole
Red onion
Tomato
Lime juice
Feta cheese
Mango
Corn
Simple Shrimp Taco Recipe:
To make these gorgeous grilled shrimp tacos with cabbage slaw, you will be needing:
A pound of large shrimp. Make sure you peel and devein the shrimps. Also, remove the tail.
Butter
Honey
Cajun seasoning
Flour or corn tortillas
For Shrimp Taco Slaw:
Cabbage
Lime juice
Mayo
Salt
Sugar
Chopped cilantro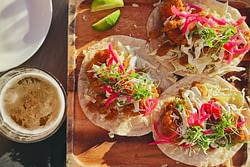 Shrimp Tacos With Slaw
This shrimp tacos with slaw are the easiest dinner you will ever make, and that is a promise. Taco can make your mood better and your tummy full! Everybody loves them, and there is a reason behind this. You will love this authentic version of shrimp tacos the moment you start eating them. Please do prepare it and spread the love with food. 
Equipment
Large Bowl

Non-Stock Skillet
Ingredients
Shrimp Taco Recipe
6

Medium

Corn Or flour Tortillas

1

Lb

Large Shrimps

1

Tbsp

Butter

1

Tbsp

Honey

1

Tbsp

Cajun Seasoning
For Shrimp Taco Slaw:
3

Cups

Cabbage

Shredded

1

Tbsp

Lime Juice

¼

Cup

Mayo

½

Tsp

Salt

1

Tsp

Sugar

½

Cup

Cilantro
Instructions
How To Make Shrimp Tacos With Slaw:
Prepare The Slaw
In a bowl, add mayo, lime juice, salt, sugar, and chopped cilantro and mix them well.

Pour the cabbage slaw and toss them until they mix properly. Let them chill until you use them.
Prepare Shrimp
Prepare your shrimp. Peel and devein the shrimps.

Thaw them perfectly before doing so. Remove the tail. 
Shrimp Taco Marinade
Then marinade it with Cajun Seasoning and leave them for 10/20 minutes.

If you like spicy shrimps, add more chili or pepper flakes. 
Cook The Shrimp
Take a large nonstick skillet and put it on medium heat. Add butter and let it melt. Add your shrimp and stir occasionally.

Stir in honey and some more Cajun Seasoning if you want, and cook the shrimps for 3-4 minutes until they turn opaque and start to become pink-ish. Do not overcook the shrimp.
How To Serve Shrimp Tacos:
To assemble the tacos, warm the tortillas on a pan for 10 seconds, and that's about it. Do not heat them for more than 10 seconds; that makes them dry and can break them. 

Fill each tortilla with slaw, 3-4 shrimps, and put some taco sauce in it. Do not be afraid to put your favourite toppings. And voila, your shrimp tacos with slaw are ready to dig in.
Notes
Some Quick Tips To Make Your Tacos Better:
Fresh shrimp tastes better. It might feel like a lot of work but trust me, and it is not that hard. Peel and devein your shrimp yourself. Pat them dry and cook them. It makes a difference.
In this recipe, shrimps are cooked in the skillet. But if you have that opportunity, put your shrimps on the grill. Who does not love a sunny summer day and a hot grill ready to grill some protein? Put the shrimps in a skewer; it will make your life easier to handle and flip the shrimps. 
You can try your favourite sauce for this dish. At the end of the day, it depends on your palate. Do not force yourself in any particular sauce; try different sauces until you find the right one. 
For the slaw, you can add carrots, brussels sprouts, or snow peas. The best part is in terms of adding vegetables; there are no limitations. If you like coleslaw, which is just cabbage slaw, you can go with that too. Whatever works for you.
Serve 2 tortillas in a taco. Corn tortillas can fall apart because they are delicate. 
You can add mango or avocado, or pineapple as the toppings. They bring a different taste and make the taco look better.
In case you do not like the taste or aroma of cilantro, substitute it with any other fresh herbs. Basil can be a very good option. 
We do not recommend that you marinate the shrimps overnight. The citrus from the lime will spoil the shrimps. So beware of that.
If you are on a low-carb diet, you can use lettuce wrap in place of tortillas. I like lettuce wraps; it brings a different taste to the dish.
What Can You Serve With Shrimp Tacos: 
Literally, anything goes well with tacos. To start with, you can serve some tortilla chips with mango salsa. Corn salad can be a very interesting choice. In terms of beverage, you can serve tacos with homemade mojitos or margaritas.
How To Store and Reheat Shrimp Tacos:
It is best to eat shrimp tacos with slaw the day you make it. But it can be stored in the refrigerator for up to three days. You can also store the slaw for a couple of days. Reheat shrimp tacos in the oven. When you reheat the shrimp, it tends to dry out. To tackle that, you can use the extra sauce in the tacos.