I love tiramisu, and I love ice cream. Sadly, I can't have both as a dessert, said, my friend. Little did he know you can combine these two delicious treats and make something extraordinary. I am talking about Tiramisu ice cream. By far one of my most favorite desserts.
When we think about summer, the first thing that comes to mind is vacation. We all love relaxing beside the lake or beach while having a big bowl of ice cream in our hands. How about you give it a little bit more flavor.
I say tiramisu is an absolute world-beater of a dessert, and I mean it. It has a complex taste to it, yet it is so simple to make. The flavor of ice cream and ladyfingers is elevated by the strong flavor of coffee and mascarpone cheese.
Of course, you are thinking about calories from this ice cream. I admit calories can be a little bit high but let's face it, you can spend some more time in the gym for this delicious treat.
Tiramisu Ice Cream Recipe:
You do not need to travel to enjoy this subline dessert. You can make it at home and enjoy this while sitting in your cozy living room. This  recipe is so simple; anyone can make it. It's super easy and super delicious.
You can make this fantastic dessert by soaking Italian crunch ladyfingers into coffee liquor and adding layers of mascarpone cheese and cocoa powder. Let's face it, ice cream is yum, tiramisu is tasty as well, but how about a mixture of these two, which will prove that you love a tasty treat.
In case you are wondering about the flavor, it is an amazing combination of ice cream and tiramisu flavor. In addition, you can compound it with vanilla extract and cocoa flavor to elevate its flavor.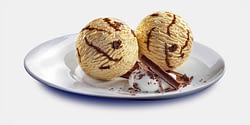 Tiramisu Ice Cream
Having fun while making the ice cream with family is enough reason for you to go for it. This tiramisu ice cream recipe is so simple; anyone can make it. It's super easy and super delicious. 
Equipment
Mixing Bowl

Whisk

Electric Mixer

Refrigerator Safe Container
Ingredients
Tiramisu Ice cream Ingredients
4

Tbsp

Espresso Powder

¼

Cup

Hot Water

1¼

Cup

Heavy Whipping Cream

½

Cup

Powdered Sugar

8

Ounces

Mascarpone Cheese

¾

Cup

Sweetened Condensed Milk

½

Cup

Chopped Chocolate

5

Chopped

Ladyfinger
Instructions
Instruction Of Making The Delicious Tiramisu Ice Cream
Take the water (1/4 cup). Heat it gently and combine your espresso powder with the hot water. Stir until the espresso is completely dissolved. Put it in the refrigerator and cool it. (Do not forget to cool the espresso mixture!)

Now you need to prepare the whipped cream. It really helps if you put the metal mixer and the whisk in a refrigerator for 5 to 10 minutes beforehand. Will it make any difference? Yes! it will.

Now put the heavy cream into the chilled mixing bowl and beat it in an electric mixer. If you do not have an electric mixer, you can do the beating with your hand; on the plus side, you can skip your biceps exercise that day! 

Beat the heavy cream at a medium-high speed until it thickens. 

Now add the powdered sugar and mascarpone cheese into the whipped heavy cream and beat them until they thicken and make a stiff peak. It will look like a bird's beak!

Now it's time for you to add the condensed milk. Mix well after adding the condensed milk. Now, you can add the vanilla extract to add extra flavor. Your ice cream base is ready.

Now add your coffee mixture and mix on medium speed until you get the desired thickness. 

Lastly, fold in the ladyfingers and crushed chocolate. Your tiramisu ice cream is ready.

Now is the most crucial part. It is so tempting to finish the ice cream once you have made it but be patient. You have to freeze it for at least four hours or overnight before serving it. 
Notes
Espresso powder is a key instrument. It is responsible for a strong coffee flavor. If you are looking for alternatives, you can try finely ground coffee beans. 
You should not compromise the quality of chocolate. Crush the chocolates into smaller pieces. It will help distribute the chocolate more evenly. 
Use crispy ladyfingers. They don't get entirely stale while freezing. So the crunch and texture are amazing.
Do not forget to freeze it properly before you serve.